Download Overcharts and join us! Start trading now with your favorite broker.
FREE 30-DAY TRIAL
Analyze

and

Trade

the markets using Professional Tools
The initial

configuration

takes only a

few minutes
Download & Install Overcharts
Create a new account
Configure the connection/s to your brokers (*)
Choose your favorite Instruments
Open a new Workspace
* Just user name and password
Trade only with trusted brokers on the best international exchanges.
DOM and Chart trading of stocks, futures, commodities, options (*), spreads and forex.
Simultaneous Connections to Multiple

Brokers & Data-Feeds
Overcharts allows you to easily toggle between brokers or simultaneously connect several brokers and data-feeds.
Different broker and data feeds (historical and real time) for each instrument.
You can easily switch your favorite broker without changing your trading and your analysis method, just configuring the connection.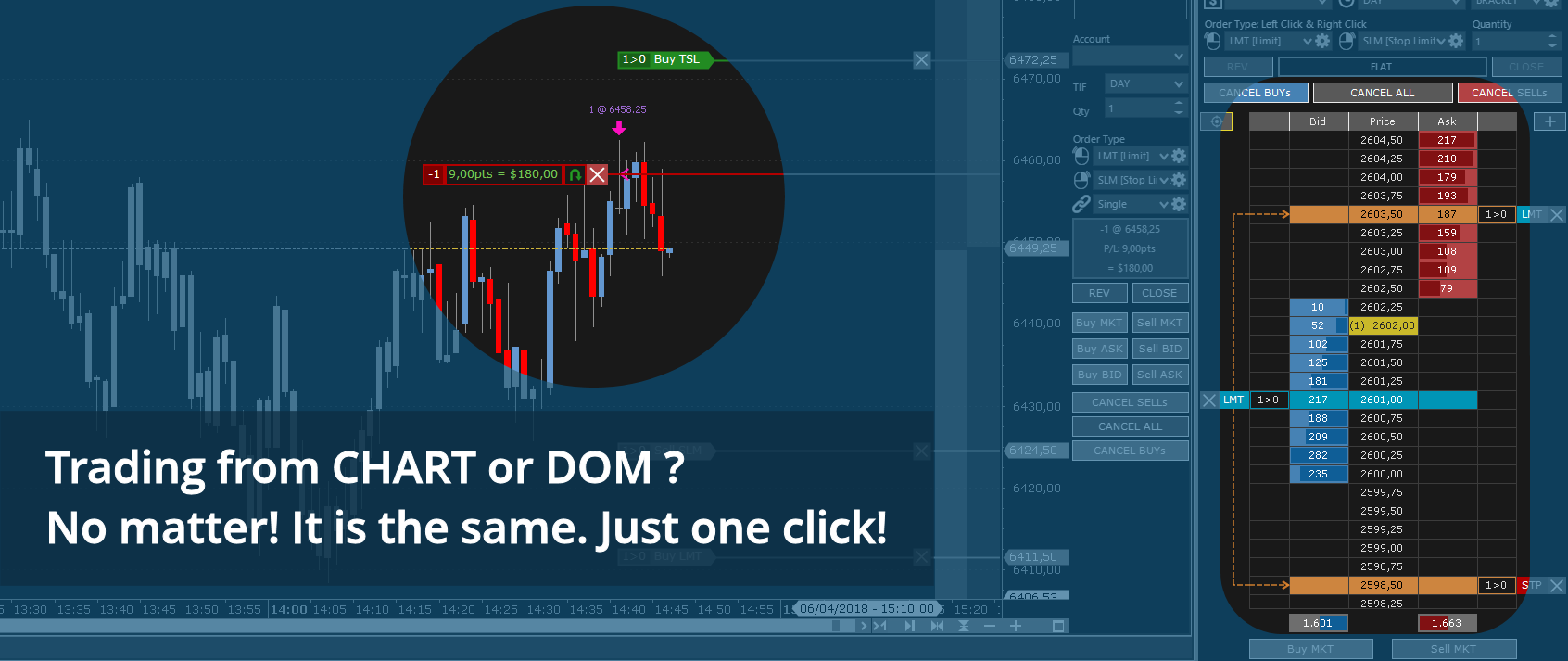 Tick/Volume Analysis
The tick/volume analysis package includes a series of indicators and tools that are essential to understanding market movements in advance. For example, Volume Profile shows the volume traded at particular price levels, highlighting if there are more buyers or sellers.
Available: Volume Profile (intraday, session, composite, range, day, weekly, monthly, and additional column on DOM), TPO Profile, Volume Delta, VWAP, Volume Meter, Volume on Bid/Ask, Session Statistics and more.  [more info]
TPO Profile
TPO Profile (a.k.a market profile®), is similar to volume profile. Time-Price-Opportunity (TPO) shows the price distribution during the specified time and highlights at which levels the price has spent the most time.  [more info]
TPO profile is generally used in conjunction with volume profile to better identify areas of support and resistance.
Volume Ladder
The Volume Ladder (aka footprint) is one of the most important indicators of order flow analysis. It displays Volume, Bid/Ask, Delta and other volume statistics together inside each bar.  [more info]
Unlike traditional bar or candlestick charts, the volume ladder combines Price, Volume and Order Flow all in one. Acceleration, deceleration, absorption, bid/ask volume levels, delta and lots of other information into a single intuitive chart.
Market Depth Map
More and more traders are using Market Depth while conducting volume analysis. Its main function is to help traders identify potential levels of support and resistance.
The indicator only works in real-time with limit order book (DOM data). Initially this indicator does not display historical data. Overtime, as the indicator is running, real time data is collected and displayed on the screen. The color of each price level changes according to the number of orders sitting at that particular level. The higher the volume, the greater the intensity of the color. This type of coloration, also called a heatmap, is very efficient in identifying potential levels of support or resistance.  [more info]
Multiple Workspaces
* Performance on 64-bit operating systems and multi-core processors.
Chart analysis
With a 4k Ultra-HD graphics engine, Overcharts offers the ability to make the clearest and most immersive trading experience ever. Analyze the market with many different types of charts, such as Candlestick, Bar, Line Equivolume, Candlevolume, Point & Figure, Kagi, Renko, Three Line Break, Heikin Ashi, Dot on Close, Volume Bar, Range Bar, Reversal Bar and Trend Hollow Candlestick. Overcharts also has all common indicators available that can be plotted on the charts, along with the ability to plot charts of other instruments on top of existing data with any resolution.  [more info]
Each chart (or data series) can display up to 100 million bars on a 64-bit operating system.
Advanced Drawing tools are available: Trendline, Fibonacci, Elliott, Pitchfork, numerous Channel types, Measurement tools and many others.
Build your own

Indicators

and

Trading Strategies
Create your trading strategies and indicators using OverBasic, a basic style easy language.
* Coming soon: .NET programming languages (C#, VB.NET)
Optimize your strategies by performing accurate backtesting and consulting the results in detailed reports.
* Coming soon: Full Walk-Forward analysis