Pivot Points
Overcharts Team
Pivot Points are significant levels traders can use to determine directional movement and potential support and resistance levels. They are calculated using the high, low and close of prior trading-period (day, week, month, year).
If the market in the following period trades above the pivot point it is usually evaluated as a bullish sentiment, whereas trading below the pivot point is seen as bearish. The resistance and support levels may represent a limit price level where the trend is no longer sustainable and a reversal may occur.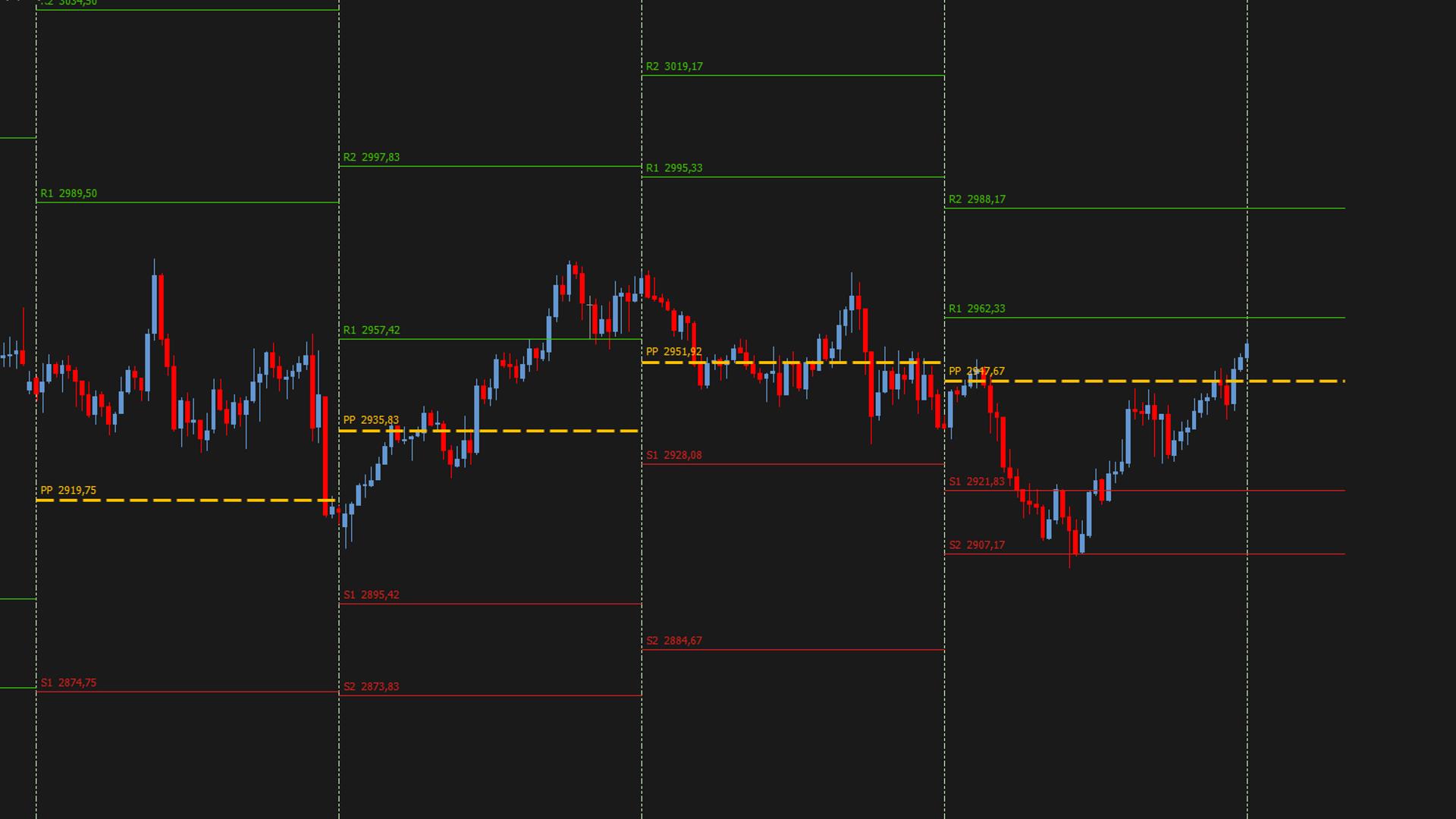 There are different versions of Pivot Points based on different calculation formulas: Classic, Camarilla, Demark, Fibonacci and Woodie.
Classic Formula:
R4 = R3 + (H – L)
R3 = PP – S2 + R2
R2 = PP – S1 + R1
R1 = 2 * PP – L
PP = (C + H + L) / 3
S1 = 2 * PP – H
S2 = PP – (R1 – S1)
S3 = PP – (R2 – S2)
S4 = S3 – (H – L)
Camarilla Formula:
R4 = C + (H – L) * 1.1 / 2
R3 = C + (H – L) * 1.1 / 4
R2 = C + (H – L) * 1.1 / 6
R1 = C + (H – L) * 1.1 / 12
PP = (C + H + L) / 3
S1 = C – (H – L) * 1.1 / 12
S2 = C – (H – L) * 1.1 / 6
S3 = C – (H – L) * 1.1 / 4
S4 = C – (H – L) * 1.1 / 2
Demark Formula:
IF (C < O)
X = H + 2 * L + C
ELSEIF (C > O)
X = 2 * H + L + C
ELSE
X = H + L + 2 * C
R1 = X / 2 – L
PP = X / 4
S1 = X / 2 – H
Fibonacci Formula:
R3 = PP + 1 * (H – L)
R2 = PP + 0.618 * (H – L)
R1 = PP + 0.382 * (H – L)
PP = (C + H + L) / 3
S1 = PP – 0.382 * (H – L)
S2 = PP – 0.618 * (H – L)
S3 = PP – 1 * (H – L)
Woodie Formula:
R4 = R3 + (H – L)
R3 = H + 2 * (PP – L))
R2 = PP + (H – L)
R1 = 2 * PP – L
PP = (H + L + 2 * O) / 4
S1 = 2 * PP – H
S2 = PP – (H – L)
S3 = L – 2 * (H – PP)
S4 = S3 – (H – L)
For more information please watch this Video Tutorial